Eric Hassberger / Vice President, Asset Management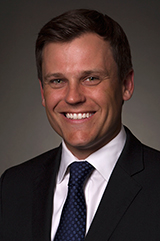 Eric Hassberger is vice president, asset management for Strategic Hotels & Resorts, Inc. In this role, he is responsible for corporate forecasting, capital raising, and acquisition and capital investment analysis. Mr. Hassberger joined the Company in 2005.
Previously Mr. Hassberger was a management consulting analyst for Accenture, where he developed a digital marketing strategy for a publically traded REIT client.
Mr. Hassberger is a graduate of the Honors College at Michigan State University, where he earned a bachelor of arts in finance. He is currently completing his master of business administration at the University of Chicago Booth School of Business.